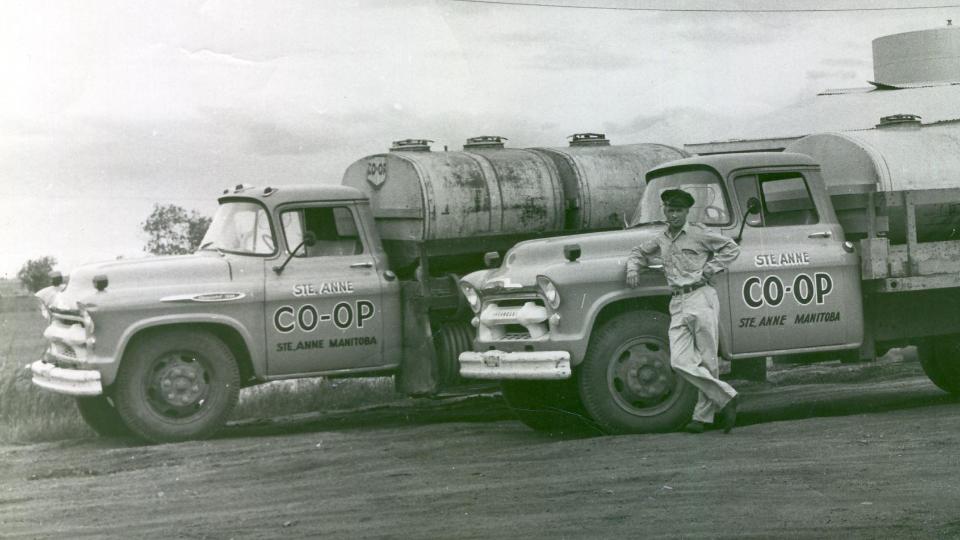 Our History
January 2, 2018
When a group of farmers from the Blumenort area got together in 1927, pooled their money, and purchased a railway car of "distillate", they set in motion a series of events that would have a ripple effect throughout Southeastern Manitoba that is still being felt today. In 1931 the Co-operative located in Ste. Anne Manitoba was incorporated. Since then, Ste. Anne Co-op has grown to serve all of southeastern Manitoba, and changed it's name to Clearview Consumers Co-op in 2018.
Individually, they could not purchase enough fuel to realize any bulk savings, but co-operatively they were able to lower their fuel costs and have enough "distillate" left over to share with their neighbours at a competitive price. While we won't take credit for inventing the co-operative foundation of sharing resources to the economic benefit of all, the idea that friends and neighbours could come together to help themselves and their community was a natural outcome of the strong sense of community that has always existed in our little corner of Manitoba.
That co-operative and community spirit burns as strongly today, in what has become Clearview Consumers Co-op, as it did in the hearts of those enterprising farmers. Like all Co-op's we are 100% owned by our membership, who benefit from competitive pricing and a share in the savings we generate. We are also part of a larger co-operative, Federated Co-operatives Limited, a wholesaling, manufacturing, procurement, and refining co-operative owned by the nearly 230 Co-op's that can now be found in Western Canada.
Many things have changed from the early days. Where once we pumped "distillate" directly from a railway car into the customer's barrel, we now have 6 tanker units delivering to the customer's storage and offer 24-hour cardlock service at 5 locations in southeastern Manitoba. We also serve our customers at 11 gas bar and convenience store locations in southeastern Manitoba. What hasn't changed is the spirit or the principles on which the foundation of Ste. Anne Co-op, now Clearview Co-op, was built.
We have been serving Steinbach and Southeastern Manitoba for over 86 years, and during that time our mission statement has changed... very little. We still operate the way we did when we were founded. With our member's interests, and the interests of the communities we operate in, as the measure by which we judge our success. And we think we've been very successful. We are one of the top ten co-operatives in Manitoba with over 32,000 members and 14 locations in the Southeastern region of Manitoba. Our operating efficiency and the incredible support of our members has allowed us to pay a cash dividend yearly.
On March 22, 2018 the membership voted to change the name of the co-operative to Clearview Consumers Co-op Ltd. to reflect who the Co-op has grown to today, and allow for growth into the future.
As a member of Federated Co-ops we have the purchasing power of over one million members behind us, allowing us to remain competitive in this era of "big-box" and "big-business" retailing.
Discover more: