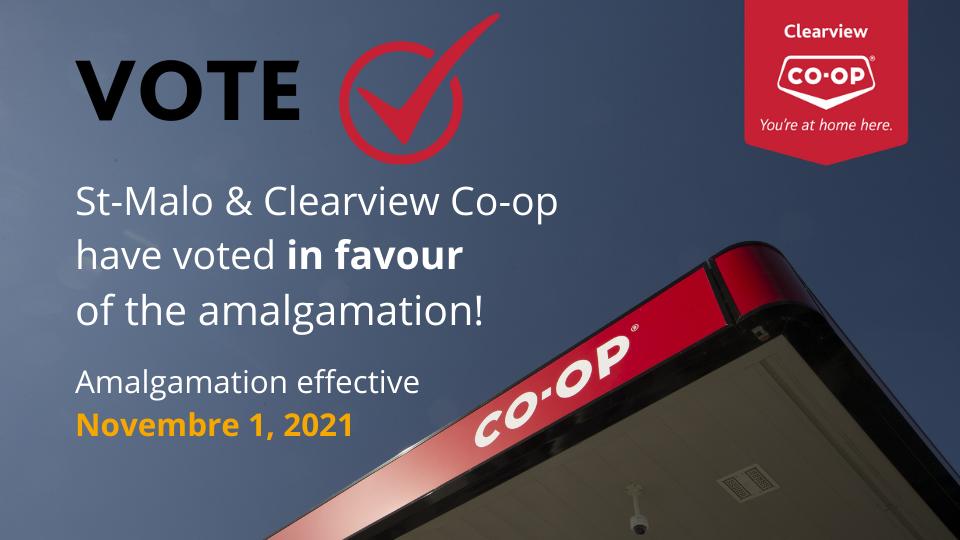 Move to Amalgamate 2021
May 14, 2021
As of yesterday, the members of St. Malo Co-op and Clearview Co-op voted to amalgamate in order to become one Co-operative!

St. Malo is a welcomed addition to the Clearview Co-op organization and the amalgamation of both co-operatives will take effect on November 1st, 2021. The St. Malo Co-op services include Grocery, Hardware, and Gas Bar & C-Store commodities.
Since both organizations are co-operatives, there are many similarities between them. These similarities include a long history of serving and benefiting the communities in which they operate, creating sustainable jobs in their trading areas, a focus on member satisfaction, investing in their communities, and a commitment to growth and diversification.
What this means for our members:
With an amalgamation, the property rights, assets, and privileges, as well as all contracts, liabilities, debts, and obligations of each Co op is the responsibility of the amalgamated Co op.
The membership shares will be converted share for share into an equal number of shares into the newly amalgamated Co-op.
My Equity
If a member is a member at both Co-ops, the equity will be combined
My Member Number
A member of both Co-op's would use their Clearview member number going forward.
Those with ONLY a St. Malo member number will have a few numbers added in front of their current member number after amalgamation.
What this means for our services and commodities:
St Malo has two locations offering groceries, liquor, hardware, and fuel. As of November 1st, 2021, all member purchases made at the St. Malo sites will go towards patronage earnings on your Clearview membership.
Going Forward:
We will continue to be owned by our members, work together for the greater benefit of our members, and improve the economic health of our communities.