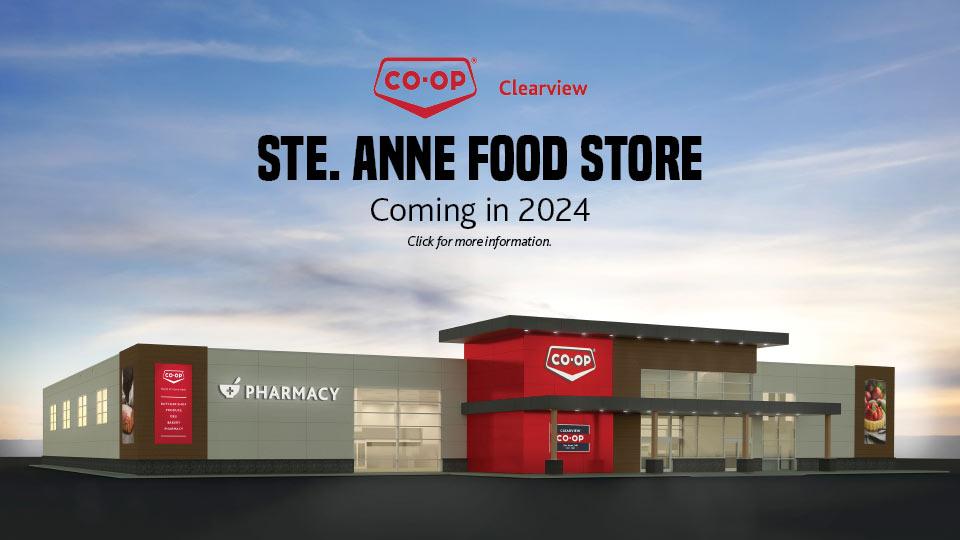 Ste. Anne Food Store
February 23, 2023
Press Release
Ste. Anne is where it all began for Clearview Co-op, from one location in the community in 1931 to now spanning southeastern Manitoba and Fort Frances, Ontario with 21 locations. Ste. Anne is a town that has seen much growth and continues to grow, with changing needs.
Clearview Co-op has decided to add to its presence in Ste. Anne by constructing a new grocery store, scheduled to open in mid to late 2024. The store will be on Traverse Road, just south of Main Street. This represents a return to Clearview's roots, located in the same community where the Co-op began. The store will focus on fresh, locally sourced products, providing customers with high-quality food options that are both healthy and sustainable. According to Henry Nickel, the General Manager of Clearview Co-op, "We're excited to continue growing in Ste. Anne, where it all began for Clearview. We're committed to the community and surrounding towns, providing them with fresh, wholesome food that supports local farmers and producers."
Clearview Co-op is confident that the new grocery store in the community of Ste. Anne will be successful and well received, offering many new jobs to people in Ste. Anne and surrounding communities. With a deep understanding of the needs and preferences of its customers, the store is positioned to become a go-to destination for residents seeking healthy and sustainable food options. We believe that a Clearview Co-op grocery store will be a valuable addition to the community, and we look forward to serving all our customers for years to come.
We can't wait to share more information with you as it becomes available. Stay tuned to learn more!