Working with Cleanfarms to redirect waste
Actions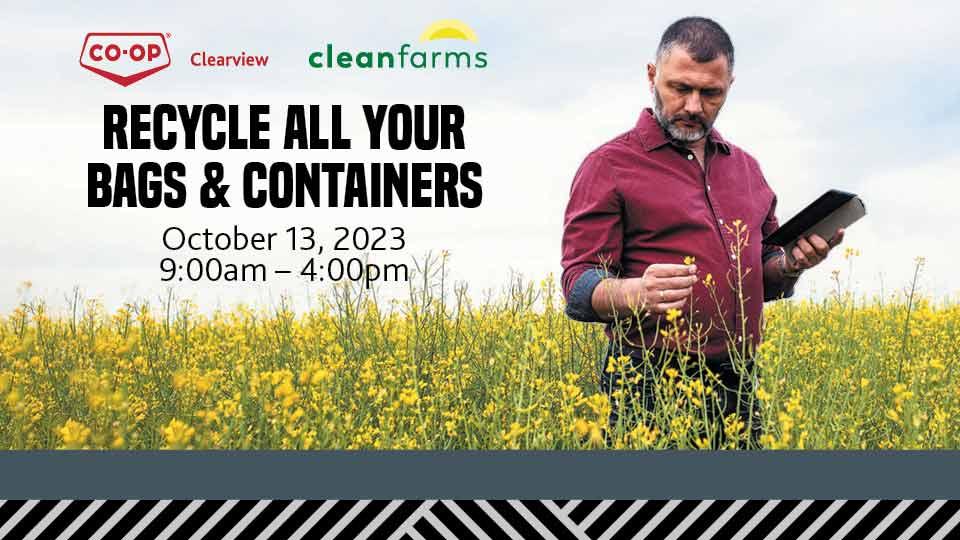 Working with Cleanfarms to redirect waste
August 16, 2023
**PLEASE NOTE – Early drop off is accepted and encouraged! Please call to arrange a drop off anytime.
We have partnered with Cleanfarms to help reduce the amount of waste sent to landfills or disposed of improperly. Click here for directions to the collection site.
On October 13th, our Agro Centre will be working
with Cleanfarms to collect and safely dispose of old or unwanted agricultural empty containers, totes, drums, seed and pesticide bags...at NO COST to you.
This program is being held at this time in October to ensure that we are collecting or giving our agricultural community the opportunity to bring in seasonal and fall waste. Don't miss your chance, as the next opportunity to dispose of these unwanted materials will be in the Spring of 2024, if the municipality landfill denies your drop off.
We are proud to be one of many collection sites across Canada to be working with Cleanfarms for this event and we encourage you to bring:
Emptied rinsed crop protection, fertilizer, pesticides and animal medications containers of all sizes

Emptied seed and pesticide bags placed in a tied collection bag

NOTE:
Remove paper booklets from containers
All containers less than 23L should be rinsed, bagged and tied
Do not remove cages from the 1000L totes
All bagged totes, seed and pesticide bags should also be placed in a tied plastic bag provided by CleanFarms
What NOT to bring:
fertilizer, diluted solution, large quantities of unopened product, and treated seed
full, unopened, emptied un-rinsed containers of crop protection, pesticides and animal medications.

needles or sharps, medicated feed, aerosol containers, premises disinfectants and sanitizers, veterinary clinic waste and medications, ear tags, or aerosols

domestic pesticides, fertilizers and animal health products and any other household hazardous waste
For more information on Cleanfarms and their collection programs visit cleanfarms.ca
Change begins in our backyard.
With your help, we can work together to keep our agriculture communities clean.